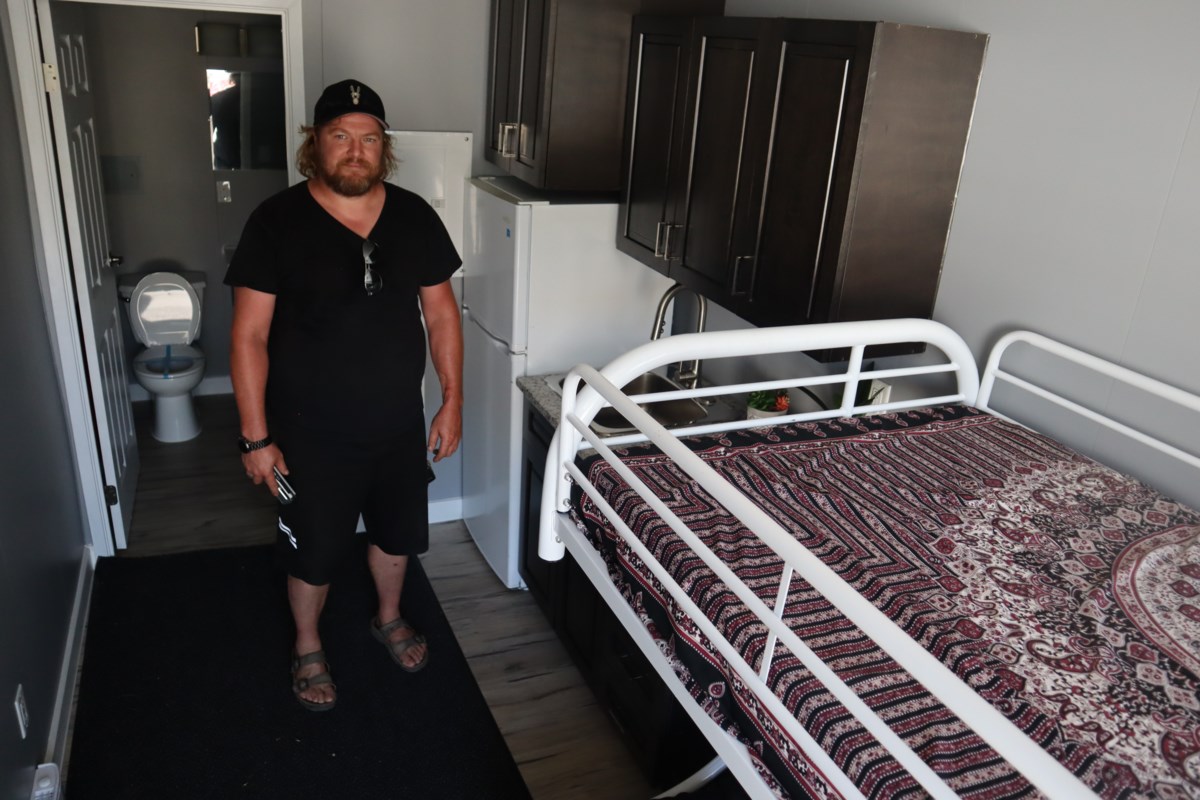 Cambridge container home manufacturer building solutions to affordable housing crisis
Now Housing converts shipping containers into shelter spaces and is building pilot project for the Region of Waterloo
In a sprawling Cambridge warehouse, Matt Lubberts and his team at Now Housing are building what he believes could solve a big chunk of the country's affordable housing crisis.
By turning "one-tripper" shipping containers into dwelling units that range from 160-square-foot shelter spaces to multi-room homes, the company is seeing growing interest from northern Indigenous communities to Ontario municipalities looking for ways to house the homeless, moving away from shelter systems that increasingly rely on hotels to handle overflow. 
Turning used shipping containers into homes is nothing new. 
Lubberts and his team have been doing it for four years.
But in that time they've worked out the kinks in the manufacturing process, bringing costs down and making multi-unit builds an attractive option for municipalities looking to create more affordable housing. 
Now Housing is working with the Region of Waterloo to build its first multi-unit housing pilot project on Bechtel Street in Cambridge this fall.
Several municipalities have since expressed interest in shelter models for housing the homeless, including Chatham, Windsor and others in the GTA. 
The containers the company uses, which are about 10 feet high, eight feet wide and 20 to 40 feet long, are called one-trippers because they're only used once to ship electronics, furniture or clothing from their point of origin in India or China. 
This helps ensure they're never used to transport hazardous materials, Lubberts says, meeting strict Canadian standards.
Once the containers make it to their manufacturing warehouse on Laurel Street, they're stripped down, cut open, framed up, wired, plumbed and configured to accommodate one of the model designs that range from studio suite to multi-bedroom units.
Since they're approved by the Canadian Standards Association (CSA) and operate like a manufacturing facility to build each unit to spec, they don't have building inspectors coming through their warehouse. They work instead with a certification company to meet quality control standards. 
"It substantially eliminates the costs associated with regular construction," Lubberts says. 
Manufacturing a home indoors reduces waste, eliminates concerns about weather, reduces reliance on labour and skilled trades and increases safety since the builders aren't working at heights.
The finished units are lifted in place by a crane.
"It's a different way of thinking about how to do construction," Lubberts says. "By doing this, we can eliminate between 30 and 40 per cent of the cost of the overall project."
Spray foam insulation keeps them warm and cool, and non-biodegradable wall panels keeps critters out and prevents mold.
These aren't like three-season double-wide trailers, Lubberts says. Everything in it meets year-round standards, making them ideal for serving northern communities looking for housing solutions.
"We wanted to make sure they could go anywhere," he says.
Inside the shelter model, there's room for a bunk bed and futon, a kitchenette with fridge and microwave, and a three-piece bathroom with a stacked washer and dryer wedged in beside the shower.
They hook up to municipal water and electrical services and come ready with a heat pump and air-conditioning unit on a 20 amp breaker.
A fourplex in Cambridge runs on about $250 to $300 in electricity a month, Lubberts says.
A duo suite for shelter housing provides two private spaces in a 40-foot unit at about $65,00-$70,000. Putting siding on it adds another $10,000.
And at 160 square feet per side, the shelter model doesn't meet the minimum building code for square footage, but meets all other standards for heating, electrical, insulation and plumbing.
It's ready to be dropped on the ground and hooked up, Lubberts says. 
"When you're said and done, you're basically able to provide a place for someone to live, better than in a shelter, for under $50,000."
Municipalities that are housing homeless people in hotels, can purchase the units, mortgage them, and own them in five years at about half the cost of what they're paying now, he says, adding the amount of money some municipalities are spending on hotels "is just phenomenal."
And that's with no return on equity, he says.
Beyond the shelter units, Now Housing builds all the way up in increments of 160 square feet, to 1,280 square foot units that have living areas, full kitchen, bedrooms and bath. Those go for about $240,000.
"That'll get you the house, but it doesn't get you the land and the servicing," Lubberts says.
But in terms of an accessory dwelling on an existing property, it works for what the City of Cambridge and other municipalities are considering.
In terms of square-footage pricing, Lubberts says they're building the units for between $260 and $300 per square foot, while most traditional builders land somewhere in the $450 to $500 per square foot range.
At those rates, the cost of building a house often doesn't make sense, Lubberts says, adding a lot of it has to do with material costs that have tripled over the last year.
A half-inch sheet of plywood that costs $85 today would have cost $22 in 2019, he says.
"If you think of a builder's cost at $500 a square foot, 2,000 square feet is a million bucks. Well, how do you make any money on that? People are already stretched beyond their means.
"It's a huge problem that's been brewing for 15-20 years and it's finally come to a head."