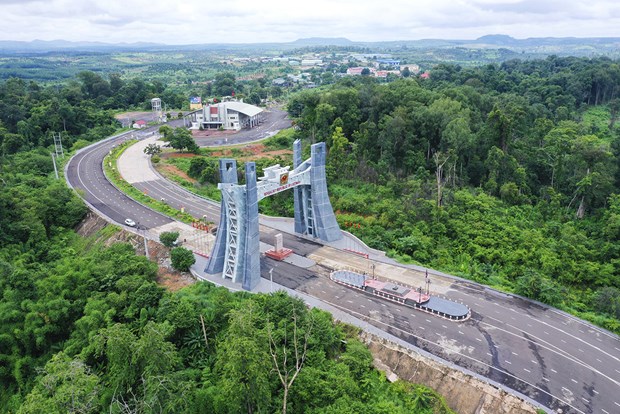 VIETNAM BUSINESS NEWS AUGUST 11
Export of computers and electronic products expected to hit US$50 billion in 2021
The export of computers, components and electronic products for the whole of 2021 is anticipated to reach about US$50 billion, up 13.5% compared to 2020 despite the impacts of the COVID-19 pandemic worldwide.
According to the Ministry of Industry and Trade, the export revenue of many export items has decreased due to the pandemic, but the production of some key industrial products has still advanced in the past seven months.
The production of phone components increased by 40% while the production of mobile phones went up by 14.1% over the same period last year.
In the seven-month period, the export revenue of phones and components was reported at US$29.35 billion, up 11.9% over the same period in 2020, and was the main export item of Vietnam.
Vietnam's phones and components were mainly exported to China, the US, the EU, ASEAN, Japan, the Republic of Korea, and Hong Kong (China), Taiwan (China), and India.
"The electronics industry will continue to grow strongly in 2021 thanks to increasing demand for communications and means of working in the context of social distancing due to the COVID-19 pandemic. In addition, the pandemic has also forced the closure of many computer and electronic manufacturing companies in the world, so Vietnam's export of computers, components and electronic products in 2021 could reach about US$50 billion, an increase of 13.5% compared to 2020," said a representative from the Import and Export Agency under the Ministry of Industry and Trade.
Previously, in the first quarter of 2021, Vietnam granted investment certificates to many large-scale projects, including LG Display Hai Phong with supplemented capital of US$750 million and Fukang Technology with registered capital of US$293 million, to carry out the production and processing of tablets and laptops in Bac Giang Province.
Singapore businesses eye Vietnamese property market
Vietnam remains a key market for Singaporean real estate investors, with these financiers taking the lead in terms of the development of housing, urban, and industrial property projects throughout the country.
A host of investors, including Sembcorp Development, CapitaLand, Keppel Land, Frasers Property, and Mapletree have been doing business in the Vietnamese market over the past 20 years.
Prominent among the projects is the Vietnam – Singapore Industrial Park (VSIP), a joint venture taking place between a Vietnamese enterprise, Becamex IDC, and a consortium of Singaporean investors led by Sembcorp Development Group.
Originally established in 1996, VSIP has gone on to provide production infrastructure for 880 foreign clients from 30 countries and territories with a total investment of US$14 billion while simultaneously generating jobs for 270,000 employees both in the country and abroad.
Furthermore, Singaporean investors have recently made efforts to expand investment in the fields of warehousing, logistics, and real estate brokerage in the nation.
Frasers Property Vietnam represents a typical investor, having recently unveiled its latest industrial development project in the southern province of Binh Duong.
This move has seen the group rush to complete and put into operation an approximately 40,000 square-metre warehouse based in the Binh Duong Industrial Park (BDIP) by 2022.
Moving forward, it is anticipated that the BDIP will become the ideal industrial and logistic hub for foreign direct investment and leading national enterprises. 
Capitaland, a leading residential real estate developer, and Emergent Vietnam Logistics Development Pte, have both also unveiled plans to invest in the industrial real estate and the Vietnamese logistics sectors.
May saw the Emergent Vietnam Logistics Development Pte grant a license to develop a US$34.4 million logistics centre in Binh Duong.
The project is expected to provide logistics, storage, and warehousing services, along with warehouse rental for foreign clients in the near future.
Alongside investing in real estate projects, Singaporean investors have recently expanded their investment portfolio into the brokerage field.
Last year saw APAC Realty, a leading real estate services provider that holds the exclusive ERA regional master franchise rights for 17 countries throughout the Asia-Pacific region, invest US$1.1 million into ERA Vietnam.
Moreover, APAC Realty also committed two loans with preferential interest rates equivalent to US$2.2 million for its partner.
ERA Vietnam is an American real estate brokerage brand that entered the Vietnamese real estate market in the form of a franchise in July, 2017.
Until now, the enterprise has established a presence in four provinces and cities, with its head office based in Ho Chi Minh City and three additional branches in Da Nang, Binh Duong, and Da Lat.
APAC Realty initially chose to invest directly into ERA Vietnam as a means of increasing its presence in the Vietnamese market, particularly as the country boasts the third largest population in Southeast Asia.
Previously, Real Estate Technology Company PropertyGuru and Real Estate Brokerage PropNex were also keen on the Vietnamese property market.
Vietnam's Ri6 durian sells well in Australia
Over 15 tonnes of Vietnamese frozen Ri6 durian exported to Australia by Uu Dam company sold out within only two days, reported the Vietnam Trade Office in Australia.
Another batch of 45 tonnes still on the way to the country has also been fully ordered by stores.
In October 2019, the office brought half a tonne of frozen durian to Australia for the first time for a promotional campaign, inviting locals to taste the fruit on an antique car on the streets of Sydney, which created a huge effect that even newspapers in the top durian exporting country reported about the event.
With the slogan "Ri6 Durian – Another king", Vietnamese Ri6 durian became a phenomenon when some stores in Sydney complained to the Vietnam Trade Office in Australia because they were not approved by ASEAN Produce Company to distribute Ri6 durian.
Despite the social distancing order in Australian cities since early 2021, Ri6 remains popular. The lowest floor price is up to 18.99 AUD per kg for whole frozen durian and 20-25 AUD per kg for peeled durian.
Right after an online conference held by the Ministry of Industry and Trade on August 6, the Vietnam Trade Office in Australia worked with major importers to continue to import more durian and agricultural products in August. The Uu Dam company alone signed a memorandum of understanding with the office to ship 100-150 tonnes of Ri6 durian to Australia.
According to the office, the Vietnamese Ri6 durian has already earned a name in Australia so exporters should pay attention to maintaining the quality of their fruit.
Hanoi sets sight on joining three biggest regional logistics hubs 
By 2025, the logistics sector aims to contribute 9-11% of the GRDP with an average growth rate of 17-21%.
Hanoi aims to become one of the top three biggest logistics hubs in the country and of the region, with the industry making a greater contribution to the gross regional domestic product (GRDP) and meeting growing demands for goods transportation domestically and aboard.
Vice Director of the municipal Department of Industry and Trade Nguyen Thanh Hai gave the remarks while referring to the proposal on promoting logistics development until 2025.
Under the proposal, Hanoi is set to have two major logistics centers by 2025. The first one, expected to cover an area of 50 hectares and located at the city's northern gateway, would serve the purpose of transporting goods to other provinces/cities via road and air freight.
In the southern gateway, there would be another logistics center with an area of 22 hectares to support the flows of goods to industrial parks in the southern region of Hanoi.
"These centers would link with major seaports, airports, bus stations, or industrial parks, along with a logistics center right inside the Noi Bai International Airport," said Hai.
By 2025, the logistics sector would contribute 9-11% of the GRDP with an average growth rate of 17-21%, while logistics costs are expected to go down to 14-17% of the GRDP as the rate of logistics outsourcing being reduced to 50-60%.
"As Vietnam is further integrating into the global economy and trading activities are playing a more important role in overall growth, the development of logistics sector has greater significance," Hai said.
"Investment in logistics infrastructure and the formation of a logistics network would be the required steps for the industry to become a spearhead economic sector of the capital city," Hai suggested.
While the targets are clear, the realization of this goal would require more effort from local logistics companies. Of the total 25,000 firms in this field in Hanoi, 80% are private but only meet 25% of the market demand, mainly due to small scale and limitation in technology, capital, and human resources.
In contrast, a handful of multinational logistics companies in Vietnam, such as Kunhe Nagel, Schenker, Bikar, or APL Logistics are holding 70% of the market share due to their large networks and modern technologies at disposal.
Inadequate logistics infrastructure system is seen as a major issue restricting the development of the sector, as there are limited options to link road transportation to other models such as railway or inland waterway.
Vice Minister of Industry and Trade Tran Quoc Khanh in a recent conference said with the majority of logistics companies being small and medium-sized firms, a stronger linkage between them would foster the sharing of knowledge, experience, and trust for greater efficiency in operation.
"Vietnam is in need of large enterprises serving as the industry leaders to support the sector's stronger growth," he noted.
"In addition to investing in warehouses or ports, stronger intermodal transport linkage would help reduce logistics costs and make the sector more competitive," Tran Duc Nghia, Director of Delta International, told The Hanoi Times.
Hanoi has long been seen as having a strategic location as it stands at the heart of the northeast region and serves as the country's gateway to countries around the world. 
At present, the capital city has nine operational industrial parks attracting over 600 projects, while the annual average revenue from industrial production is estimated at over US$6 billion. 
Besides, Hanoi is in the course of developing other 89 industrial clusters across the city, of which the majority are in rural districts of Thach That, Quoc Oai, Chuong My, Thuong Tin, Phuc Tho, Dan Phuong, and Hoai Duc. 
Industrial parks are homes to potential customers for logistics services, at the same time creating large-scale flows of goods for exports.
Vietnam's wood products export surges 55 percent in seven months
Vietnam exported 9.58 billion USD worth of wood and wood products in the first seven months of this year, a year-on-year increase of 55 percent, according to the General Department of Customs.
Of the figure, wood products raked in 7.44 billion USD, posting a 64-percent rise compared with the same period last year.
Local experts contributed the impressive growth of wood export to the fact that the demand for furniture increases during the COVID-19 pandemic.
According to Dien Quang Hiep, chairman of Binh Duong Furniture Association (BIFA), shipments to the main export markets of the Binh Duong wood processing industry surge considerably.
The US market accounted for more than 65 percent of Binh Duong's total wood product export turnover, with an increase of 81 percent over the same period last year while Hong Kong (China) market made up 8.5 percent, with an increase of more than 47 percent, and Taiwan (China) market picked up 43 percent.
A similar situation is also reported in the central province of  Binh Dinh.
Ngo Van Tong, director of Binh Dinh Department of Industry and Trade said local wood products have been exported to countries in Europe, Oceania, America, Asia, and Africa.  The province's furniture exporters have received orders until the end of the third quarter of this year.
The COVID-19 pandemic has caused many difficulties for trade and transportation activities, resulting in changes in working and living lifestyle of people, with consumers purchasing more furniture to maintain work and life at home. Thus, Hiep said, the province's export turnover of living room and dining room furniture is forecast to rise rapidly in the coming time.
To be able to meet the orders of wood products, wood processing enterprises in Binh Duong have quickly adapted and changed their production methods accordingly, he said, adding that some businesses are renting more land to open factories.
Bui Chinh Nghia, deputy general director of the Vietnam Administration of Forestry (VNFOREST) under the Ministry of Agriculture and Rural Development, said along with the US, Japan, and Hong Kong (China) markets, Vietnam's export turnover of wood and wood products to the European market would increase sharply in the last months of 2021 when the COVID-19 pandemic is brought under control and the prevention measures are gradually eased.
Although Vietnam's wood processing and export industry has gained a momentum given the context that the whole country is coping with the COVID-19 pandemic, challenges still lie ahead.
According to Nguyen Liem, Chairman of the Board of Directors of Lam Viet Company in Binh Duong province, the high growth in export value of the wood industry in the past two years contains potential risks because the United States would increase defensive measures for imports with sudden growth.
Therefore, enterprises that export furniture for living and dining rooms should be careful to avoid becoming a transit point for goods to a third country, he said, adding that if the US imposes sanctions on Vietnam's wood industry, the whole sector would be seriously affected.
Another problem for the sector is the lack of empty containers for shipments, which has pushed transport cost up by twice, thrice and even 10 times in the past two-three years. /.
Forestry production expected to rise 5.5 percent annually in 2021-2025 period
Vietnam aims for a growth at 5-5.5 percent each year in forestry production in the 2021-2025 period, according to a Government resolution approving the investment policy for the sustainable forestry development programme in the next five years.
Under Resolution No. 84/NQ-CP issued on August 8, forestry will be developed into a modern, effective and competitive sector with strong production chains.
In 2025, export value of wood and forestry products is hoped to reach 20 billion USD, including 1.5 billion USD from non-timber products, with higher processing ratio.
In 2025, income from planted production forest is expected to rise about 1.5 times compared to that in 2020.
The sustainable forestry development programme targets the sustainable management, protection, development and exploitation of forests, thus contributing to creating jobs, protecting the ecosystem, eco-diversity, strengthening capacity to adapt to climate change, and protecting national defence and security.
The programme will focus on maintaining the existing forest coverage of 42 percent in a sustainable manner and developing new areas in 2021-2025. Alongside, the productivity and quality of forest will be improved to meet both the demand of materials for production and environment protection.
The resolution also underlines the need to prevent wildfire and expand special-used, preventive and coastal forests, as well as to design policies to encourage businesses to invest in rural areas.
The total budget of the programme is estimated at 78.85 trillion VND (3.42 billion VND), 17.4 percent of which will be funded by the State budget and 82.6 percent from other sources./.
Gia Lai province to boost trade links with Cambodia's border provinces
Border trade infrastructure between  Gia Lai province and Cambodia's localities sharing the same border line will be developed to promote goods trading and exchange activities under a programme to develop Vietnam's border trade infrastructure to 2025, with a vision to 2030.
The People's Committee of the Central Highlands province of Gia Lai has just issued a plan on the implementation of the programme, which has been approved by the Prime Minister to boost development cooperation and connect border trade infrastructure between Gia Lai and Cambodia's border provinces to tap the potential and advantages of the two sides. It also aims to help attract investors and encourage private investment in the construction and development of border infrastructure.
The programme will strengthen close cooperation between the border localities in the fields of economy-trade and socio-culture, contributing to improving the lives of border residents, thus ensuring national defence, social order and safety in the localities.
Under the plan, Gia Lai will coordinate with the Ministry of Industry and Trade to build a list of border trade infrastructure facilities, with priority to be given to projects using State budget and those that calls for private investment.
The province will review and adjust planning, invest in upgrading and building infrastructure and social works in the Le Thanh International Border Gate Economic Zone.  Projects to upgrade border markets to facilitate the exchange of goods through the Le Thanh International Border Gate are also promoted.
The province intends to prioritise allocating State budget funds to build border infrastructure projects that the private sector cannot participate in, encourage and assist enterprises to join the construction of border trade markets.
In the coming time, the provincial authorities will support the exchange and circulation of goods and cooperation agreements between the border areas of Gia Lai province and Ratanakiri province (Cambodia). 
The focus will be on improving the quality of human resources to manage and develop the team of traders through the dissemination of laws and policies on the origin of goods and methods of payment, signing contracts, and exchanging experience with traders and border residents.
The provincial Department of Industry and Trade was assigned to coordinate with relevant agencies in investment promotion in order to attract businesses inside and outside the province to engage in developing border trade infrastructure./.
Hanoi invests efforts in developing key industrial products
Hanoi is working to promote the development of key industrial products, expecting 25 – 30 products will earn the recognition this year.
This is part of the Hanoi People's Committee's Plan 60/KH-UBND for the implementation of the project on developing local key industrial products in 2021.
Accordingly, Hanoi looks to attract the participation of 20 – 25 enterprises with 25 – 30 products recognised as key industrial products of the city this year.
It will work to ensure 100 percent of the enterprises producing key industrial products will benefit from its support policies, and that those firms will bolster their production value by 10 – 12 percent from 2020. The firms are also expected to contribute 35 – 40 percent of the city's total industrial production value and 15 percent of the total export value.
The setting of concrete targets for 2021 aims to realise Hanoi's common goal of developing its strong sectors and industrial products that are able to engage deeply in and contribute high added value to global supply chains, help fuel other sectors' development, and use environmentally friendly technology.
Authorities will also help improve the competitiveness of key industrial products, step up activities to promote trade, investment and support manufacturers of the products, better the investment and business climate for the firms, assist them in developing human resources, and build mechanisms and policies for developing key industrial products.
The municipal Department of Industry and Trade is assigned to chair the plan implementation, coordinate with relevant departments and sectors to step up communications to popularise the key industrial products, and devise policies and solutions supporting producers of those products.
For the 2021 – 2025 period, the municipal People's Committee is expected to recognise 150 – 180 key industrial products. Local manufacturers of the products are hoped to contribute 40 – 50 percent of the city's industrial production value and 20 – 22 percent of total export revenues each year, according to the department.
Thanks to urgent solutions to contain the COVID-19 pandemic and support businesses, the index of industrial production (IIP) in Hanoi grew by about 1 percent month on month and 7.8 percent year on year in July, the municipal Statistics Office reported.
The processing and manufacturing industry expanded 0.3 percent month on month and 7.9 percent year on year. The respective growth rates were 9.5 percent and 7 percent for electricity production and distribution; 0.8 percent and 4.3 percent for water supply, waste and wastewater treatment. Meanwhile, the mining industry contracted 1.9 percent from the previous month but still rose 2 percent from a year earlier.
In the first seven months of 2021, the IIP of Hanoi went up 8.5 percent from the same period last year, which recorded an increase of 4 percent. In particular, processing and manufacturing grew 8.7 percent; electricity production and distribution 7.3 percent; water supply, waste and wastewater treatment 6.8 percent; and mining 3 percent.
In Vietnam, industrial activities have continued bearing the brunt of the COVID-19 pandemic, resulting in mere growth rates of 1.8 percent month on month and 2.2 percent year on year in the July IIP – the slowest pace in seven months, the Ministry of Industry and Trade said.
In July alone, the mining industry shrank 8 percent from a year earlier while processing and manufacturing expanded 2.9 percent; electricity production and distribution up 6.7 percent; water supply, waste and wastewater management and treatment up 4.4 percent.
Many sectors witnessed declines in their production indexes during the first seven months of 2021, including crude oil and natural gas exploitation down 10.4 percent; hard and lignite coal mining 2.9 percent; and machinery and equipment repair, maintenance, and installation 1.1 percent./.
Tuna exporters forecast to meet difficulties in Q3
Tuna exporters are forecast to meet obstacles in the third quarter due to hike in transport costs and COVID-19 pandemic.
The hike is attributable to social distancing order in almost countries, resulting in limited import and customs clearance.
The shortage of empty and cold containers remains while congestion in seaports in China and the US is hindering global trade.
According to the Vietnam Association of Seafood Exporters and Producers (VASEP), tuna export turnover was estimated at over 410 million USD in seven months of this year, up 21 percent annually. Vietnam's major importers include the US, Europe, Israel, Canada and Japan. The US was the largest importer with a value of over 170 million USD.
As workers in fisheries sector mostly work in cold environment, the risk of COVID-19 transmission is high. Meanwhile, many of them have yet to be vaccinated yet.
Competitors, technical and trade barriers are also causing difficulties for the sector. Several global competitors and European markets want to upgrade criteria for exporting to the Europe – the second biggest tuna importer of Vietnam.
The VASEP said Spain – a major importer of the Vietnamese tuna in Europe, is planning to grant AENOR label on social responsibility for imported tuna and impose nine criteria for tracing the origin of tuna exported to Europe.
Accordingly, AENOR label will be glued on tunas that are caught responsibly to ensure that offshore fishermen meet criteria for the use of workers at the right working age as set by the International Labour Organisation.
The labelling is considered a trade barrier to competitors and a tool to increase Spanish fishermen's income, VASEP said.
A representative from the Binh Dinh Fishery JSC said the sector is facing difficulties due to increasing operating costs, making it hard for it to compete.
VASEP's representative said the sector is striving to cope with the pandemic, maintain stable production, and fight illegal, unreported and unregulated (IUU) fishing to achieve better results in the third quarter./.
SMEs face challenges in digital transformation
Vietnamese small- and medium-sized enterprises (SMEs) are facing barriers in digital transformation and have a passive response to market changes, said Hoang Minh Chien, deputy head of the Vietnam Trade Promotion Agency (Vietrade).
Chien told an online conference on digital transformation for sales and marketing held in Hanoi on August 7 that Vietnam targets to become a digital country by 2025 under the national digital transformation programme. Of which, digital transformation for businesses would play a crucial role.
However, the SMEs did not have enough awareness about digital transformation. In addition, they lacked commitment and perseverance from leaders as well as information about digital technology. They also faced limited human and financial resources.
"Vietrade is gradually implementing training, consulting and events applying information technology and digital transformation to support enterprises to overcome difficulties in the COVID-19 pandemic," he added.
Bui Hoang Anh, Director of the SME Centre under CMC Telecom Vietnam, said there are three clear trends in digital transformation in Vietnam this year, including data analysis, online payment/transactions and data security in the digital environment.
Digital transformation is strongly taking place around the world. But in Vietnam, the speed is still modest. A survey by the Vietnam Chamber of Commerce and Industry (VCCI) in 2020 at more than 400 businesses showed that 51 percent of businesses actively transformed digitally before the COVID-19 pandemic occurred. Meanwhile 25.7 percent of businesses were not interested but when COVID-19 happened, they started to catch up and find digital technology solutions; 17.5 percent of enterprises started to pay attention but they had not yet started to apply technology.
Nearly half of Vietnamese businesses have not actively converted to digital. But when the pandemic occurred with unpredictable developments, if enterprises do not adapt and catch up with trends, their business and development will certainly be affected, Anh said.
The COVID-19 pandemic is a driving force for businesses and people to change their habits and apply more technology in production, business and consumption. For businesses that do not keep pace with digital transformation, they will very quickly see their business results affected, and in the long run, they will be easily eliminated from the market.
Many businesses acknowledged the importance of digital transformation, but still faced challenges.
Chu Truong An, deputy head of the Ton Vinh Technology Development and Trading Company Limited, said: "We do not know where to start to digitalise while we are still applying information technology in production, business and export."
"When implementing digital transformation, enterprises' resources will be assessed for Viettrade and experts to support according to a roadmap. Enterprises could completely convert digitally and start from available resources. The most important factor is business owners' commitment and persistence in digital transformation," said Nguyen Thi Minh Thuy, Director of Vietrade's Information Technology Application Centre.
She said Vietrade was completing the VECOBIZ ecosystem which is a platform that integrates trade promotion activities to serve businesses, such as exhibitions, promotions and trade connections. In the future, businesses could use this platform to find customers and exchange information. VECOBIZ also provided factors related to the business environment such as free trade agreements, non-tariff barriers and standards for export markets.
The online conference saw the participation of some 1,200 delegates from many provinces and cities nationwide to raise awareness and build capacity for individuals and enterprises in information technology application and digital transformation. This training focuses on sales and marketing skills for businesses. These are two important activities, contributing to improving sales and the image of businesses./.
Tax collection reaches record high but slows down as virus takes a toll
Tax collection in the first seven months of this year set a record high, driven by robust banking, property, securities and automobile production sectors, but was slowing down as the virus took a toll, according to the General Department of Taxation.
Statistics showed that tax collection was estimated to total VND763.8 trillion from January to July, equivalent to 68.4 per cent of expectations for the full year and increasing by 13.1 per cent against the same period last year, setting a record high in terms of collection value.
The General Department of Taxation said that tax collection in the period was good mainly thanks to the recovery of the economy in the final months of 2020 and the increases in tax collection from robust sectors, including banking, real estate, securities and automobile production.
Tax collection from the banking sector increased by 72.9 per cent, the equivalent to VND6 trillion on good credit growth, increases in banking services fees and a reduction in operating costs which helped increase banks' profits.
The real estate market also recovered in late 2020 and early 2021 with a number of projects transferred which pushed tax collection up by 61.7 per cent to VND25 trillion. The increase in merger and acquisition deals in the early months of 2021 also pushed up corporate income tax collection by 2.6 times to VND5.7 trillion.
The tax collection from the securities sector rose by 2.47 times to more than VD5 trillion in January – July.
Policies to promote the consumption of domestically produced and assembled cars also helped increase tax collection by 47.1 per cent, the equivalent to VND35 trillion.
However, the General Department of Taxation said that tax collection was on a decreasing trend month over month with higher decreases since the fourth outbreak of the virus in late April.
Statistics showed that domestic tax collection increased by 15.9 per cent in April but slowed down to 5.6 per cent in June and even dropped by 10.4 per cent in July.
Tax debts also increased by 23 per cent against the end of 2020 to more than VND116.8 trillion, reflecting that production and business were struggling in the COVID-19 pandemic.
The tax watchdog said that while the economy was still facing challenges as the pandemic remained complicated in a number of provinces and cities, including HCM City, Dong Nai, Binh Duong, Long An and Ba Ria – Vung Tau, focus would be placed on removing barriers and making it easier for enterprises to maintain their production and business and attract investment, which would help increase tax revenue in the long term.
The tax watchdog is also focused on implementing tax and fee exemptions, reductions and extensions for enterprises and citizens following the Government's directives to promote production and business and well as economic growth.
Special attention would be attached to enhancing tax management of e-commerce and businesses on digital platforms such as Facebook, Google, Youtube and Netflix.
More support
At the meeting on Thursday, the Government basically agreed with the Ministry of Finance's proposal about a tax and fee reduction and exemption package to support citizens and enterprises affected by the COVID-19 pandemic.
The package included a 30 per cent reduction in corporate income tax for those with revenue of less than VND200 billion per year, a 50 per cent reduction in the third and fourth quarters of all household and individual businesses, together with a 30 per cent reduction in value-added tax for some sectors.
The ministry also proposed exemption of the fee for late payments arising in 2020 and 2021 for enterprises and organisations which incurred losses for the three consecutive years of 2018, 2019 and 2020.
Draft decree offers incentives for investment in agriculture
The Ministry of Planning and Investment is drafting a decree to support loans and interest rates for enterprises that invest in agriculture and rural areas in the near future.
According to the draft, which will revise Decree No. 57/2018/ND-CP on incentive policies for both domestic and foreign-invested enterprises investing in agriculture, and the rural development sector, the period of interest rate support for projects will be 5-9 years. The interest rate support limit will not exceed 70 per cent of the projects' total loans.
Enterprises that invest in carrying out scientific research projects or buy copyrights, technologies and scientific research results to serve production and business in agriculture and rural areas, will also get State support.
Besides, enterprises, which implement high technology transfers according to the provisions of the Law on Technology Transfer, will get the State's maximum aid of VND1.5 billion.
Regarding support for human resource training and market development of enterprises having investment projects in agriculture and rural areas, the State budget will also fund a maximum of VND1.5 billion for each project.
According to the draft decree, every investment project in cattle raising such as buffaloes, cows, pigs, goats and sheep will also receive the maximum aid of VND10 billion from the State.
Other beneficiaries will include projects in aquaculture, seafood exploitation, logistics services for fishing at sea, agricultural product processing and preservation, and livestock and poultry slaughterhouses.
Agriculture is an important economic sector in Viet Nam. Agriculture, aquaculture, and forestry sectors contributed 14.9 per cent to the country's GDP last year. Although agriculture has doubled in terms of value in the last decade, its share of GDP has witnessed an average annual decrease of 0.3 per cent.
To boost the sustained development of agricultural and rural areas, the Government has issued several supporting policies to encourage agricultural enterprises to apply biotechnology, automation, mechanising technology, and information technology, viewing it as fundamental to implementing sustainable agricultural practices and increasing productivity.
The State Bank of Vietnam along with commercial banks have also offered a financial package of VND100 trillion (US$4.37 billion) to support enterprises applying high-tech farming.
Viet Nam has 12 areas certified for high-tech agriculture. The three most prominent zones are Hau Giang, Phu Yen and Bac Lieu provinces. There are more than 20 enterprises in the Central Highlands that have applied agri-tech in their operations and farming including IoT, big data, blockchains, plant growth monitoring cameras, environmental sensors, greenhouses with automatic adjustment systems linked to computers and smartphones, LED light, smart GIS pest management, prediction systems, and electronic traceability. 
Phones enjoy robust growth despite COVID-19 challenges
Phones and components continued to lead the way among Vietnam's key export items during the opening seven months of the year with their value increasing by 11.9% to reach US$29.35 billion, according to the General Department of Vietnam Customs.
July alone saw the export turnover of the commodity group surge by 30.5% to US$4.3 billion compared to the previous month, while other export items endured a downward trajectory.
The Ministry of Industry and Trade reports the country produced over 128 million mobile phones during the past seven months, despite facing a number of complicated developments caused by the COVID-19 pandemic.
The electronics industry is anticipated to witness vigorous growth in the remainder of the year thanks to an increasing demand for consumption of communication equipment, coupled with the closure of electronic manufacturing companies globally due to the COVID-19 pandemic, according to industry insiders.
Nguyen Thi Thu Thuy, deputy director of the Export Promotion Centre under the Vietnam Trade Promotion Agency (Vietrade), emphasised that the Vietnamese economy continues to witness a number of significant changes in terms of its export structure, especially for high-tech products such as precision mechanical products, electronics and components.
At present, Vietnam exports computers and electronic components to over 100 markets worldwide, with China, ASEAN, Japan, and the Republic of Korea (RoK) viewed as its leading markets.
It is also accelerating exports of the products to the EU market, including the Netherlands, Germany, the Czech Republic, Poland, and Finland.
The export of computers, components and electronic products for the entire year is anticipated to reach approximately US$50 billion, representing an annual increase of 13.5%, experts estimate.
Present supply of social houses not meet market demand: Ministry
According to the Ministry of Construction, the present supply of social houses has not met the market demand.
In its report on the second quarter real estate market, the Ministry of Construction reported social housing projects for low-income people in big cities.
According to the report, the prices of houses in urban areas tend to increase compared to the general income as well as the growth rate of the economy because the price of land in some localities has been adjusted up and the price of some construction materials has also increased dramatically in recent years.
For instance, a few social housing projects in Hanoi have the average selling price of VND13.5-16 million per square meter such as IEC Thanh Tri (1,167 apartments with the price at VND15,8 million per square meter; Ecohome in Bac Co Nhue – Chem (3,040 apartments, at VND16 million per square meter; CT4 Kim Chung, Dong Anh (484 apartments, at VND13.5 million per square meter.)
Elsewhere in Ho Chi Minh City, a few social housing projects are being sold at the average price of VND13-25 million per square meter such as An Phu Tay (311 apartments at VND13 million per square meter ); Phu Tho DMC in Ly Thuong Kiet Street in District 10 (1,088 apartments, at VND25 million per square meter).
In the Central City of Da Nang, social housing construction projects are also very limited, with the average selling price much lower than that of Hanoi and Ho Chi Minh City at about VND7.2-12.7 million per square meter.
In Can Tho City, Gia Phuc social housing project costs VND9.5 million per square meter with the rent of VND68,904 per square meter a month while apartment project Nam Long-Hong Phat has the selling price of VND12 million per square meter, the rent VND58,750 a month.
A housing project for low-income people in the Northern City of Hai Phong's An Duong District has the price from VND8 to VND10.6 million per square meter and the rent from VND55,000 to VND73,000 per square meter a month while another project in the same district fetches VND 14.5 million per square meter with the rent at VND89,000 per square meter a month.
The Ministry of Construction announced that it is studying, reviewing, and amending the Law on Housing, the Law on Real Estate Business, formulating a National Housing Development Strategy to 2030 and a vision to 2040 to balance the housing supply and the market demand, contributing to the stabilization of real estate market.
The Ministry of Construction also suggested localities promote the supply of social housing for low-income people in urban areas, industrial park workers, and affordable commercial housing for middle-income people. Moreover, local administrations should adjust the structure of the housing and real estate market to suit the needs of the market. 
SCG sale revenue in Vietnam surges 41 percent in Q2
SCG, a cement and building material conglomerate in the ASEAN region, has announced a revenue from sales in Vietnam at over 9.85 trillion VND (428 million USD) in the second quarter of this year, up 41 percent year-on-year.
The positive performance was mainly attributable to new partnership of packaging (SOVI, GOPAK), chemicals (TPC, Chemtech) and export sales from Thailand to Vietnam, according to the company.
In the second quarter, SCG's total assets in Vietnam surpassed 122 trillion VND, an increase of 37 percent year-on-year, mainly from the chemicals business.
Amid the pandemic, SCG has actively contributed to the national vaccine fund while its subsidiaries have supported nationwide pandemic curbing attempts.
In southern provinces, SCGP – the packaging business of SCG – has donated 2,000 field hospital beds to alleviate frontline pressure in HCM City, Dong Nai, Binh Duong and Long An, while Long Son Petrochemicals has contributed 10 billion VND for vaccination purposes.
In the central region, Song Gianh Cement has supported the vaccination programme in Quang Binh. Meanwhile, in the northern areas, SCGP has accompanied Hai Duong and Bac Giang in the fight against the pandemic.
Overall, SCG revenue from sales for the first half of 2021 rose 27 percent year-on-year to over 8.29 billion USD thanks to higher chemical prices. Profit for the period saw a yearly hike of 99 per cent to over 1 billion USD on the back of improved chemical product spreads and equity income./.
Technology investment helps businesses penetrate deeper into EU
Several Vietnamese firms have made great strides recently as they invest in advanced technologies aimed at launching products to meet the stringent requirements set by the EU in terms of quality and environmental protection standards.
Vietnam raked in US$22.5 billion from exporting goods to the European Union during the past seven months of the year, a rise of 15.5% compared to the same period from last year, according to data compiled by the Ministry of Industry and Trade.
This impressive figure can largely be attributed to the enforcement of the EU-Vietnam Free Trade Agreement (EVFTA), with 30% of the total export turnover to the EU enjoying preferential tariffs.
The strong export growth has been recorded in a number of key agro-forestry exports, such Tas rubber with US$61 million, rice with US$5.2 million, along with rattan, bamboo, sedge and carpet products with US$70.5 million
Ambassador Nguyen Van Thao, chief of the Vietnamese mission to the EU, revealed that apart from textiles, footwear, and electronics, other items exported to the market such as fruit and vegetables and wooden furniture exports also saw a sudden growth throughout the reviewed period thanks to the trade pact.
Carsten Schittek, minister counsellor and head of Trade and the Economic Section for the EU Delegation to Vietnam, emphasised that the increasing flow of Vietnamese goods to the EU has provided the bloc with additional options amid the pandemic causing disruption of supply chains.
Luong Hoang Thai, director general of the Multilateral Trade Policy Department under the Ministry of Industry and Trade, expressed his belief that bilateral trade will reach new heights moving forward, particularly with the removal of tariff barriers thanks to the enforcement of the EVFTA.
Despite this, experts have advised local firms to meet the quality and environmental protection standards set forth by the EU as a means of making greater inroads into this market.
Taiwan's Giant Group to develop new factory in Binh Duong
Taiwan's largest bicycle manufacturer Giant Group will inject $48 million into a new factory in the southern province of Binh Duong.
The factory is designed with an annual capacity of one million bicycles. It is slated to be put into operation in the second half of 2023. The move is part of the group's plan to capitalise on the long-term growth of the global bicycle market.
As reported by newswire Cycling Industry, the investment comes in tandem with the announcement of a record quarter for the business where revenues reached NT$21.4 billion ($764 million), an 8.5 per cent growth versus the same period in 2020.
Demand for bicycles has been exploding across the world. Therefore, Giant saw the earnings from its bicycle sales rising in all markets during the first half of 2021. Giant's sales growth surpassed 20 per cent in the three main markets of the US, Europe, and China, and Giant Japan and South Korea also had outstanding sales performance.
One of the key driver for Giant's growth is e-bikes. In the first half of 2021, the group saw its e-bike revenue increase by 40 per cent against the same period last year. Giant's e-bike subsidiaries in Germany, France, the Netherlands, and the US company all enjoyed significant growth; together with original equipment manufacturing, e-bikes account for 30 per cent of Giant Group's sales revenue.
The investment of Giant Group also signifies the interest of Taiwanese investors in Vietnam in general and Binh Duong in specific. As of present, Taiwan (China) remains the largest foreign investor in Binh Duong.
In the first six months of 2021, Taiwanese investors tops the foreign investment charts in the locality with five projects worth $657 million. Notably, Polytex Far Eastern (Vietnam) Co., Ltd. was greenlit to inject an additional $610 million into its project at Bau Bang Industrial Zone (IZ) to expand its production of polyester synthetic fibres and spinning products.
Meanwhile, Cheng Loong Binh Duong Paper Co., Ltd. also received an investment certificate to add $100 million to its paper factory at Protrade International Tech Park, bringing the total investment in Binh Duong to $1.1 billion.
Businesses propose "buffer zones" at "3 on-site" factories to protect supply chain
Enterprises of essential goods cannot supply enough goods for market demand due to the lack of workforce for production and the "3 on-site" model has proved ineffective at these businesses.
Measures to overcome weakness of "3 on-site" model
On the morning of August 8, Prime Minister Pham Minh Chinh chaired a Government online conference with associations, businesses, ministries, agencies and localities to listen, share, and remove difficulties for production and business for enterprises amid the COVID-19 pandemic. At the conference, Nguyen Thi Phuong, Standing Deputy General Director of VinCommerce (a member company of Masan Group), said that the "3 on-site" model is a goof policy but only effective in the short term (about 1-2 weeks). If it is applied in the long term, the model will be at risk of becoming a major source of infection.
Therefore, Masan proposed the Government and localities allow the establishment of "buffer zones" around the factories and other facilities such as schools, vocational schools, warehouses, stadiums and gymnasiums. Workers at the enterprises can eat and relax at safe distances to prevent them from becoming infected in these "buffer zones".
The "3 on-site" model is an initiative from industrial parks in Bac Ninh and Bac Giang. In these localities, this model was considered an effective measure for businesses to maintain production and avoid disrupting the supply chain.
When the epidemic outbreak spread to Ho Chi Minh City and many southern provinces, the "3 on-site" model was also implemented. However, reality shows that this model is not suitable for labour-intensive production conditions like the factories have in the southern region.
Specifically, the VISSAN Joint Stock Company has strictly applied the "3 on-site" production model since June 24; however, many COVID-19 infections were reported in its factory, forcing this business to cease operations since July 29. As a result, the supply of pork to the Ho Chi Minh City market was reduced by 30%.
"Currently, the company has 700 F1 cases related to F0 infections, affecting its production severely. They are isolated at many places, even on the company's premises. This has severely affected the psychology of workers and many people want to quit their jobs", said Nguyen Ngoc An, Director of Vissan.
General Director of Acecook Vietnam Company, Kajiwara Junichi, said that the number of workers registering into "3 on-site" model is only half the total number of employees, so production output has been greatly reduced compared to normal.
According to the Vietnam Association of Seafood Exporters and Producers (VASEP), around 30% of seafood enterprises in the southern provinces and cities can ensure "3 on-site" conditions are observed and the number of mobilised workers only accounts for 30-50% of total employees. Average production capacity has been reduced to 40-50% of that beforehand. It is estimated the overall capacity of the whole area will decrease to only 30-40% of that previously.
A similar situation has been evident in many enterprises in fields such as textiles, garments, leather, footwear, wood and electricity in Binh Duong and in many localities applying social distancing under Directive No.16/CT-TTg.
Up to now, following a month of conducting "3 on-site" production, many businesses in the southern region have in turn proposed the government top this model. In recent times, employees have also requested to stop staying at the workplace.
Thus, the "buffer zone" solution at the "3 on-site" factories proposed by Masan Group could be an important improvement of the "3 on-site" model, more practical and effective.
Earlier, at a working session with Vissan on August 6, Deputy PM Vu Duc Dam noted that the fight against pandemic in Ho Chi Minh City is not to be measured in weeks but in months. Therefore, measures should be calculated in the long term. "The most important thing is to maintain the production and distribution of essential items such as medical equipment and supplies and food", said the Deputy PM.
Pressure from the authorities forced businesses to take extraordinary measures to maintain the production of essential goods for the market. However, the "3 on-site" model is risky for workers.
The leader of Vissan said in order to improve workers' psychology and encourage them to return to work after COVID-19 infections was detected in the company, the best solution is the on-site vaccination of workers.
Confirming this, the Department of Industry under the Ministry of Industry and Trade noted that the Government should focus on prioritising vaccination for employees in these enterprises.
However, workers are confused and do not want to stay at work. In many factories, workers who have been vaccinated have quit their jobs in bulk. Some factories and supermarket chains have lost over 50% of their workforce and production has dropped dramatically.
Meanwhile, in many localities, vaccines are being arranged for real estate and construction businesses. In Quang Nam Province, the list of people prioritised for vaccination in the third phase of 2021 includes many real estate, construction and hydroelectricity businesses.
Representatives from many enterprises have affirmed the protection of production and the supply chain of essential goods is a key measure to maintain ingsocial stability amid the current sepidemic situation. Therefore, specific measures are needed to achieve this goal.
Businesses supported with loans to pay salaries and restore production
Many credit contracts to help businesses pay salaries for workers during work suspensions and for the recovery of production in general have been signed only a short time after the Prime Minister signed and promulgated Decision No.23/2021/QD-TTg on the implementation of a number of policies to support employees and employers facing difficulties due to the COVID-19 pandemic. 
The number of businesses accessing the loan package of VND7.5 trillion (nearly US$326 million) is increasing rapidly, contributing to supporting employers and employees to overcome the difficulties caused by the COVID-19 epidemic, maintaining production and ensuring adequate living conditions.
Immediately after the State Bank of Vietnam issued a Circular to implement the refinancing package, on the afternoon of July 21, the branch of the Vietnam Bank for Social Policies (VBSP) in the northern mountainous province of Lang Son signed a support credit contract with the Mai Linh Lang Son Technology Transport Co., Ltd.
Accordingly, the company was given VND92.6 million to pay salaries for nine employees with an interest rate of 0%, the loan term being 12 months, and no collateral required.
Mai Linh Lang Son Technology Transport Co., Ltd. Director Nong Thi Van said that the recent outbreak of the COVID-19 epidemic has severely affected the company's operations. Many employees of the company have lost their incomes and jobs due to the reduced travel demand of the people.
Therefore, the timely attention and support of the VBSP in Lang Son province has created favourable conditions for the company to access the preferential loan package, she said, adding it will also helpsbusinesses in restoring production over the last months of the year, while at the same time ensuring income sand stabilising the living conditions of workers.
Meanwhile, Chu Phuong Khanh, an employee from the Pride Trade and Tourism Company in Lang Son said this capital not only helps the company reduce pressure to cover operating costs, contributing to maintaining its operations, restoring production and business, but also supports workers to overcome this difficult period of time.
According to the latest data from the VBSP, as of July 29, the VBSP has approved loans to 125 employers of more than VND99 billion to pay the salaries of more than 29,000 employees in accordance with Decision No. 23/2021/QD-TTg of the Prime Minister. The total amount disbursed by the VBSP as of July 30 was VND99 billion.
According to Deputy Director of the VBSP in Lang Son province Pham Manh Ha, right after Resolution No.68 and Decision No.23 were issued, the branch proposed the Lang Son Provincial People's Committee issue documents directing the relevant departments, agencies, and the provincial Fatherland Front to coordinate with socio-political organisations to disseminate information and implement the relevant policies.
Along with Lang Son province, the implementation of the credit policy to help businesses to pay salaries for workers has also spread across the country. Up to now, all 63 branches of the VBSP in 63 provinces and cities together with all levels, branches and localities have received dossiers, having quickly reviewed and appraised these to sign credit contracts.
Vice Chairman of the Quy Nhon City People's Committee Nguyen Phuong Nam said the branch of the VBSP in Binh Dinh province has announced the scheme to transaction points in all communes, wards and towns in the province.
The branch of VBSP in Binh Dinh province has received applications for loans of more than VND8.2 billion from 19 enterprises to pay the salaries of 982 employees. The branch has also signed credit contracts with nine businesses and educational institutions to borrow to pay the salaries of 395 employees with a total loan of over VND2.6 billion.
It can be seen that experiences drawn from actual implementation will help VBSP branches in provinces and cities implement more quickly and effectively Resolution 68/NQ-CP of the Government and Decision 23/2021/QD-TTg of the Prime Minister.
However, the implementation of the policy requires not only the efforts of the bank, but also the participation of the whole political system and the relevant agencies to identify the right borrowers, timely address any problems arising as well as closely monitor and ensure publicity and transparency in the implementation process.
Southern provinces urged to prepare for work on three key expressways
The Ministry of Transport has asked several southern provinces to be well-prepared to invest in the Ring Road 3, the HCMC-Chon Thanh Expressway and the HCMC-Moc Bai Expressway projects.
The Binh Duong, Dong Nai and Long An governments were ordered to promptly report the investment plan to the provincial People's Councils to undertake procedures for the construction and report the results to the prime minister for consideration, while the HCMC government was authorized to develop the Ring Road 3 project in the city.
The My Thuan Project Management Board and the Ho Chi Minh Road Project Management Board were told to quickly submit the prefeasibility study for the Ring Road 3 and the HCMC-Chon Thanh Expressway projects to HCMC and Binh Phuoc.
The two local governments will review and assess the prefeasibility study and report it to the prime minister prior to August 15, the local media reported.
The provinces were urged to complete necessary procedures for investment in the two projects so that the Government can report the investment plan to the National Assembly for consideration and approval at the 15th National Assembly's second session in late 2021, according to the ministry.
As for the HCMC-Moc Bai Expressway project, the ministry asked the HCMC government to work with Tay Ninh Province to complete investment procedures to submit them to the prime minister in August.
Source: VNA/VNS/VOV/VIR/SGT/SGGP/Nhan Dan/Hanoitimes 

VIETNAM BUSINESS NEWS AUGUST 10
Vietnam remains attractive destination for US investors